THE ART OF TIDYING UP IN REAL ESTATE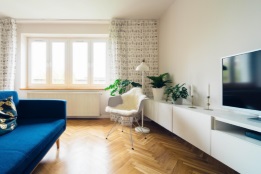 Every seller wants their home to sell fast and for top dollar, but it takes more than just luck to make this happen in the Edmonton local market. Selling your home is not always easy, but with careful planning it does not have to be messy.
With the high inventory level in the Edmonton market, home buyers are being more selective in their decision-making process, which means a listed home can easily slip through the cracks if it's not in pristine condition. For those looking to sell now or in the future, considering the option to downsize or upsize, the most cost-effective way to achieve the most from your home's sale is to clean and de-clutter.
A seller should have one goal while on the market, this should be to make their home ready and attractive as possible for potential buyers. The best way to get your home ready for the market is carrying out a thorough cleaning process. My methods may not bring you as much joy as the "KonMari Method", but for those looking to sell, the following steps will bring you top dollar for your home in the least amount of time.
Furniture first: Remove pieces of furniture that clutter your space and make it feel small. Oversized furniture or too much of it will make a large room feel tiny and awkward. Get rid of collections and any areas in a room where visually there is a lot going on and things that take up space on the floor.
Depersonalize the Space: Buyers need to picture themselves living in your house, so they know the property is suitable for them and their family. Pack up family photos, refrigerator magnets, books, and magazines. Clear bathroom counters and remove miscellaneous items like jewelry, tissue boxes, and reading glasses from nightstands and end tables. Clean out your medicine cabinets. Take a picture of your room and then glance at it quickly. What stands out? If it isn't a selling feature, get rid of it.
Paint: Paint is one of the few renovations you can do that will net you 100% return on your investment! Painting immediately makes your home look cleaner and newer, especially in high traffic areas. This is a great time to fill in holes left over from taking down family photos when you depersonalized.
Clean the Outside and Surroundings: The first impression always counts the most, if the home doesn't look well maintained from the outside, buyer's will automatically question the inside. Be sure to clean the gutters, pressure-wash the sidings, and if possible, paint the walls. If you are selling in the winter season keep up on the snow shoveling and ice areas. In the summer, get out there and weed, plant a few flowers and cut the grass. Get the wow right from the start.
Carryout Repairs: Since the Edmonton Alberta market has evolved to be a buyer's market, your home should be in the best possible condition in order to be to compete among others on the market. Be sure to take note of every major and minor defect such as leaky roofs, broken windows and other defects that could act as a discouragement to potential buyers.
Have Closets and Drawers Organized: Disorganized closets and drawers can only mean one simple thing; your home doesn't have enough storage space. Having closet's and drawer's organized can have a great impact on the selling price of your home.
Separate yourself from the home: This can sometimes be difficult. This is where you've lived a significant time of your life and some things are now part of you. Take a moment and acknowledge how the house has served you; when you can find an appreciation for the house you are letting go of, you gain closure knowing the house has completed its job. Once you feel gratitude for the house and objects you are letting go of, it is much easier to look forward to your new beginning with joy and enthusiasm.
Jody Lambertus, Realtor
780-399-5114
Jody.lambertus@century21.ca