POPULAR TRAVEL DESTINATIONS
An early start to chilly temperatures and snow In Edmonton this year has everyone thinking about escaping to some warmer locales or planning ahead for summer getaways. In no particular order, here are my top destinations for Edmontonians in 2019
Mexico
Mexico is always a favorite with Edmontonians looking for a quick winter getaway and many of us are familiar with destinations like Puerto Vallarta and Cancun. However, why not go off the beaten path and head to the emerging destinations of Merida or Loreto for your next vacation. These quaint Mexican cities are less touristy and have lots of local culture, character, and charm.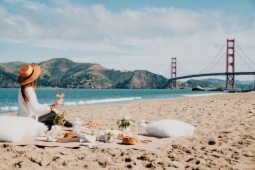 San Francisco
The city by the bay is a must visit, especially with Air Canada now offering daily non-stop flights from Edmonton. With its eclectic neighborhoods, colorful Victorian houses, Fisherman's Wharf, and the iconic Golden Gate Bridge this vibrant city has no shortage of things to see and do. As an added plus San Francisco's proximity to wine country allows for an easy day tour to sample that classic California Cabernet.
Europe
Italy, Scotland and Portugal are all trending European destinations this year. Make 2019 the year you see the Cinque Terre, bask on the beautiful beaches of Portugal, or hunt for Nessie in the Scottish Highlands. WestJet's new Dreamliner fleet, offering direct flights to Europe from Calgary, gives Albertans even more flight options across the pond this summer.
Australia
Australia is known for it's natural beauty, with stunning beaches, cool wildlife (kangaroos!), and cosmopolitan cities, it's a great destination for both adventure seekers or those looking for a more low-key vacation. Snorkeling or diving off the Great Barrier Reef, embracing the Aussie lifestyle in one of many beach towns, or road tripping along the legendary Great Ocean Drive are just a few of the many attractions Australia has to offer.
Canada
We are so fortunate to live in such a beautiful country so why not explore it? Road trips can be an adventure and low-cost airlines such as Swoop and Flair are making it even more affordable to travel to various destinations in Canada (and beyond). From the emerging vineyard scene on Vancouver Island to Halifax's amazing restaurants, there is so much to see and do in our own backyard!
Written by: Quinn Widrick
Quinn is a travel consultant, based in Edmonton.
tpi.ca/QuinnWidrickTPI
Follow: @QuinnWidrickTPI