Stefan in Japan
I was given such a great opportunity beginning of July! Many of you may know that I participate with JCI (Junior Chamber International) which is an Under 40 group that empowers individuals to be the leaders of tomorrow. In Edmonton our group participates with many not-for-profits, like Ronald McDonald House, creates events for social responsibility, personal and leadership development but what many don't know is there is an international aspect that is truly eye opening. As the current elected Executive Vice President for JCI Canada (our national organization) I was chosen to participate in the 34th Leadership Academy, in Karuizawa Japan.
What this leadership academy is is a gathering of other JCI potential income national leaders from around the world – hosted by JCI Japan. I gathered with 85 other countries in one location, to share ideas – to share struggles and to share solutions. We had amazing training and events where we got to experience Japan's famous hospitality – as well as get to understand each other's culture and way of doing things. The environment surrounding this event is meant to empower the future leaders of JCI through communication and building relationships with young people who want to figure out the solutions to problems existing in their communities. Collaborating with others is a key skill that JCI leaders must demonstrate during their year of leadership, as well as active listening, examining challenges and obstacles faced by others, and critical thinking to efficiently solve problems.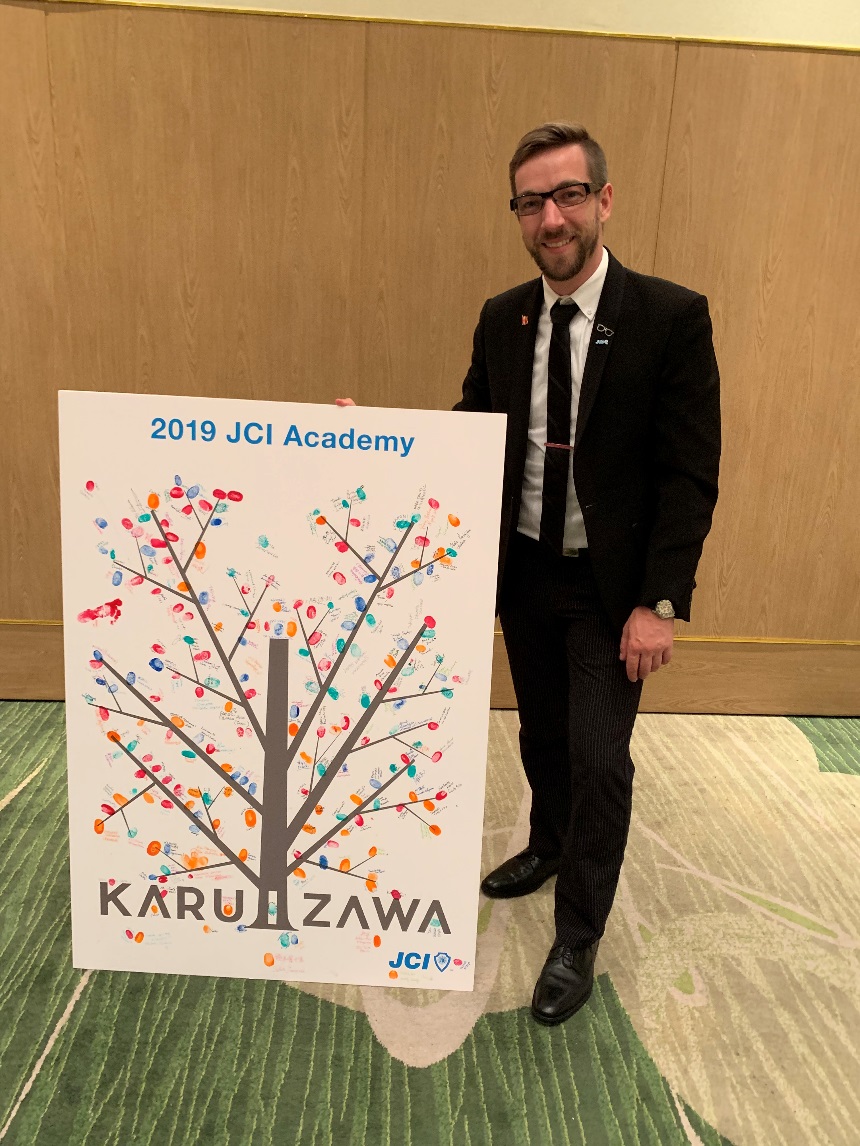 JCI is an international organization – and I knew this – but to have all the future leaders of the organization gathered in one place to openly discuss how we were to achieve our goals of becoming the leading global network of active young citizens by providing development opportunities that empower young people to create positive change was amazing. My group consisted of incoming leaders from JCI Denmark, JCI Cameroon, and JCI Japan – where else would we be hearing about the impact of changes to an education system in Denmark, and afterwards hearing about water solutions in Cameroon that the local organizations are taking on. I was like a sponge – engaging as many people as I could to attempt to build some (digital) bridges for later to discuss other opportunities to share and have our organization build more leaders and help more people.
My biggest take away was that this world has really shrunk. No longer is Cameroon and Canada far a part – with uses of technology we can share and support now world wide. We have the capacity to support each other's organizations, programming and each other directly from our own nations. No longer do we have to operate in silo's wondering if there is a better way of doing things – or a project that could make direct impact in the city in which we live. I am excited to continue my leadership roles within JCI – in Edmonton, within Canada and beyond all borders.
Curious about how you can get involved with JCI Edmonton? https://jciedmonton.com Curious about upcoming JCI Edmonton events? https://www.facebook.com/pg/JCIEdmonton/events/
Over 40? No problem – we are always looking for amazing people to participate with our organization in leadership, personal & business development – or help by volunteering! Reach out today!